Tuscany is a region that can easily fascinate anyone: small villages of extreme beauty, delicious cuisine and excellent wines.
During our stay in Siena, we created a nice itinerary to do in the day by visiting different places that are located a short distance away. We therefore decided to collect them in this post to inspire your next tour or a short trip.
Monteriggioni
The small village of Monteriggioni is located on the top of a hill covered with vineyards. It is collected within a wall decorated with several towers, which testify to its initial defensive function.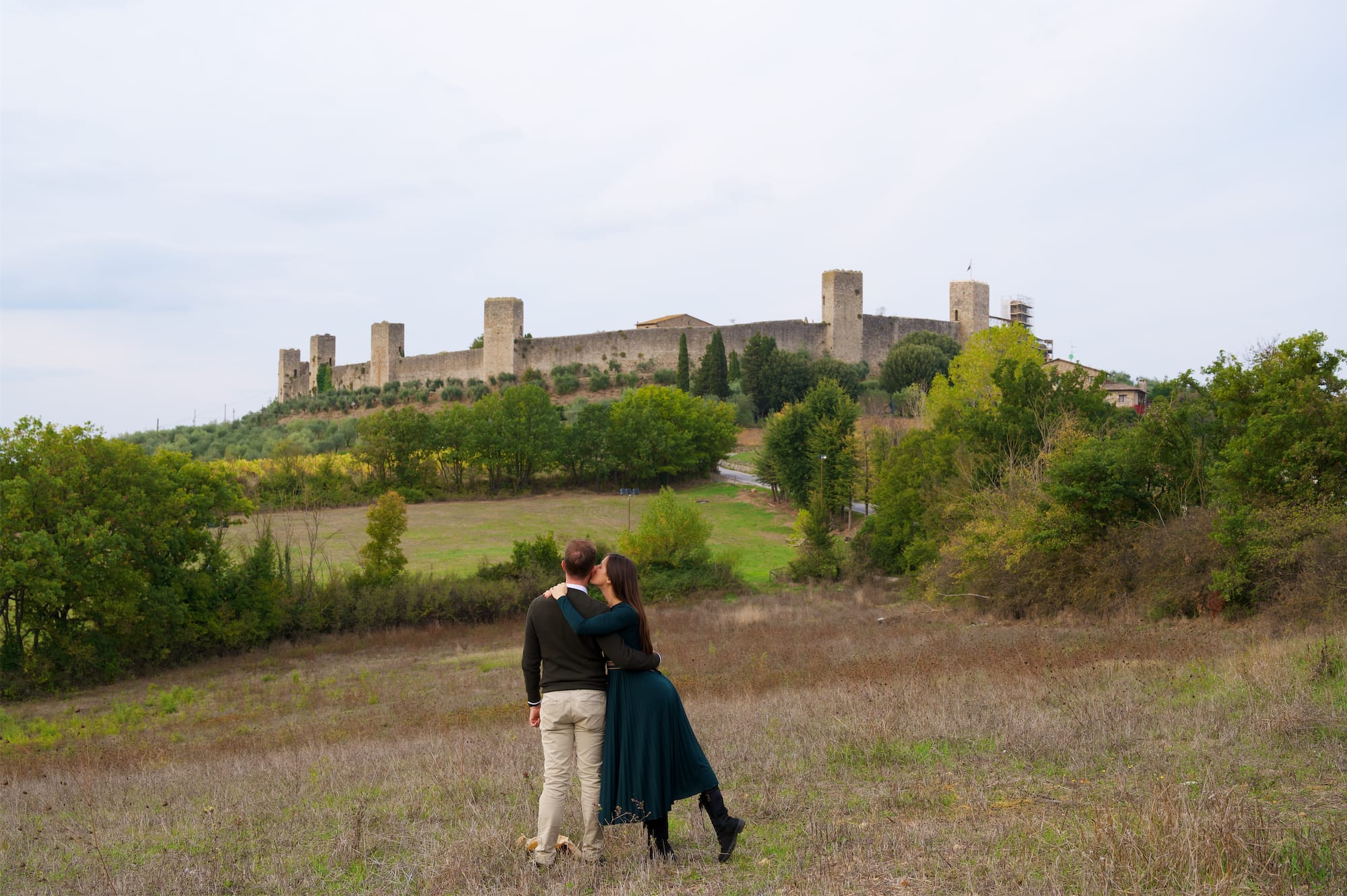 The Franca or Romea gate represents the main access to the village, a short distance from the paid parking. Once you pass the walls, you will find yourself inside a beautiful and large square with several bars and restaurants with tables that invite you to stop.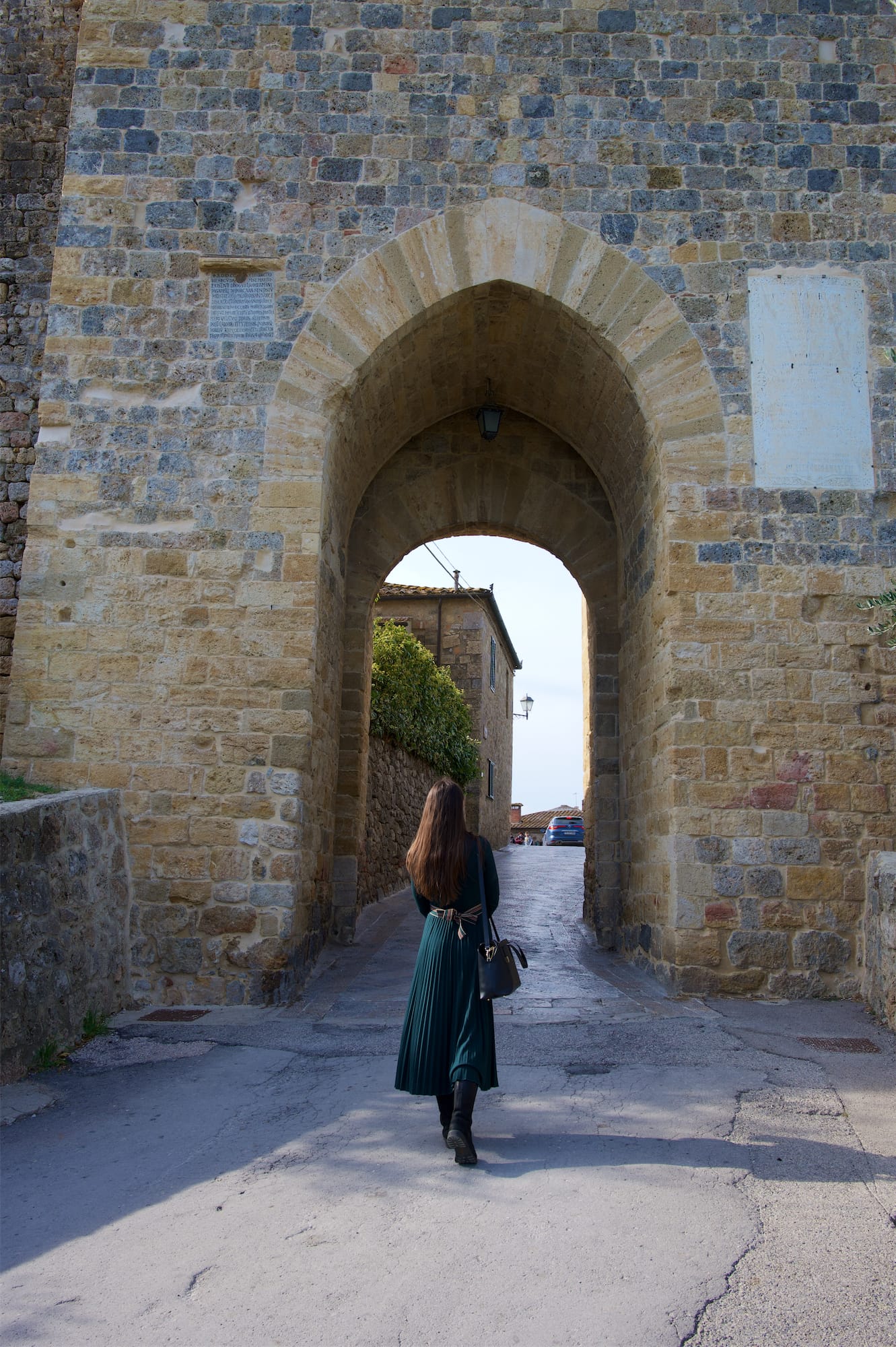 The church of Santa Maria Assunta also overlooks this square, with its somewhat austere interiors. Continuing along the main road in a few minutes you will reach the opposite side of the walls and the Porta di Ponente or Fiorentina, facing towards Florence. The tour around the center is quite short, but pleasant. You will find several small shops and restaurants. If you desired, it is possible to buy a ticket to walk through the walls.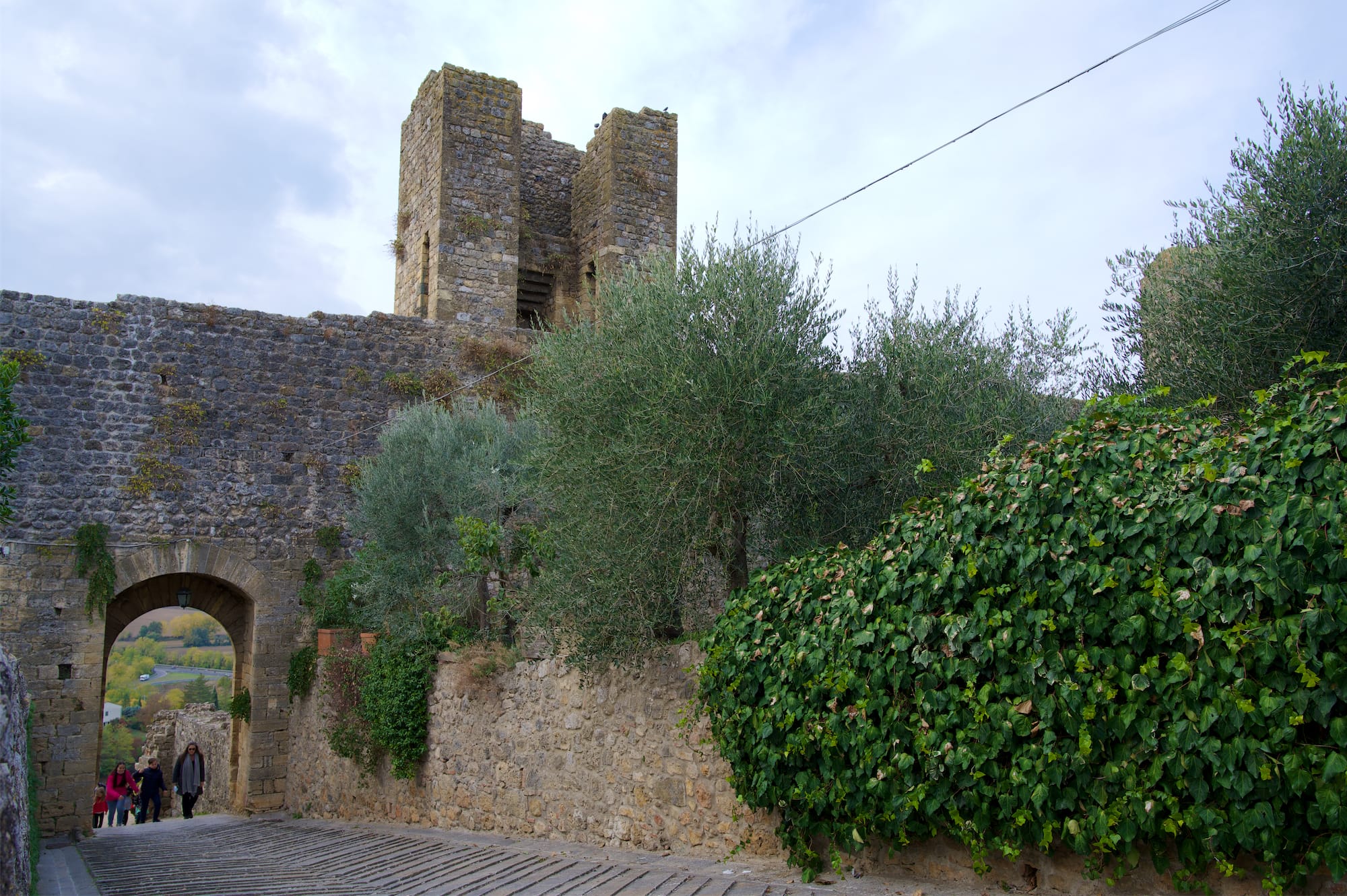 Montalcino
The medieval village of Montalcino is undoubtedly worth a visit. On its top stands a castle (now it houses a wine shop) and is surrounded by a wall. Walking through its streets is like taking a dip in the past and during our visit the village was celebrating with a series of historical re-enactments.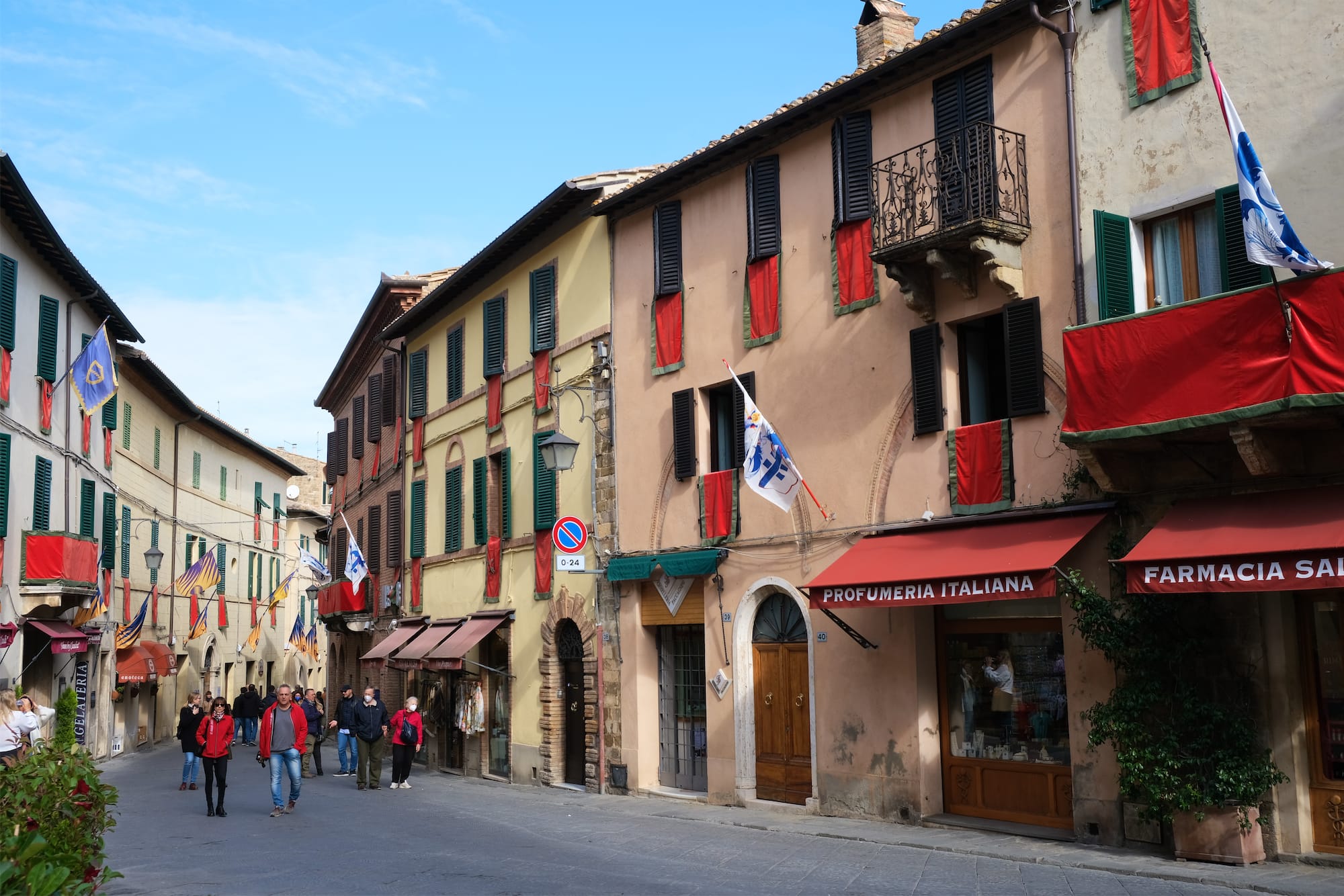 Do not miss the characteristic long and narrow tower of the Palazzo dei Priori, seat of the municipality, which overlooks Piazza del Popolo. Another reason why this village is known all over the world is undoubtedly the refined Brunello di Montalcino: if you want to buy a few bottles to take home, we recommend Enoteca di Piazza, present with different locations throughout the village.
Bagno Vignoni
This small village is a fraction of San Quirico d'Orcia. The name refers to its thermal origins and has its fulcrum in Piazza delle Sorgenti: a huge pool of thermal water that still flows at a high temperature.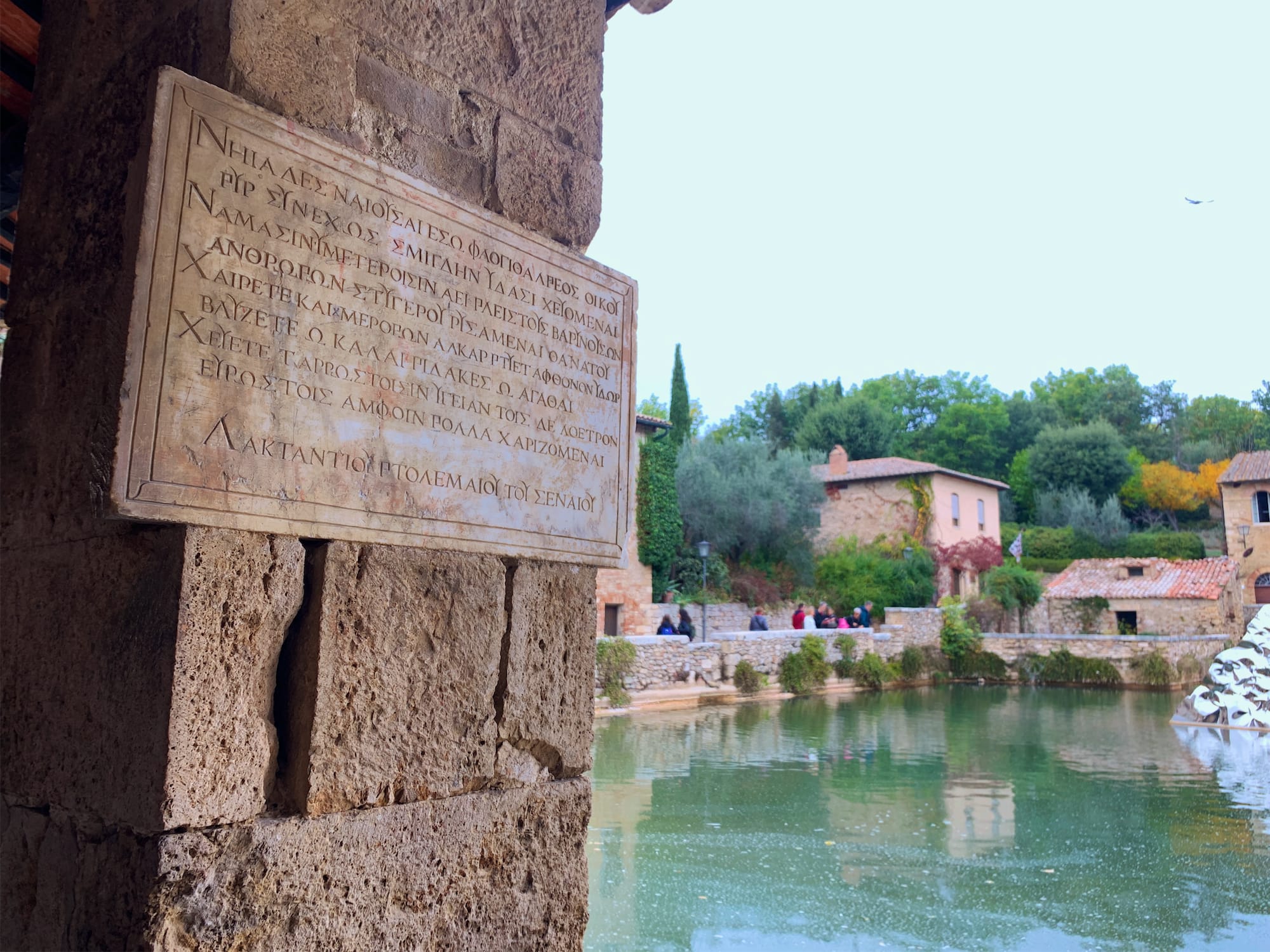 La piazza è circondata da palazzi rinascimentali e una bella loggia.  Passeggiate a piedi lungo via del Gorello, fino ad arrivare in prossimità dei resti degli antichi bagni. Qui lungo antiche scanalature nel pavimento scorre ancora l'acqua calda che poi si riversa nella zone dal Parco dei Mulini.
The square is surrounded by Renaissance palaces and a beautiful loggia. Stroll along via del Gorello, until you reach the remains of the ancient baths. Here, along ancient grooves in the floor, hot water still flows and then pours into the area from the Parco dei Mulini.
Pienza
Pienza is known for having been named the "ideal city of the Renaissance" by Pope Pius II. It is not difficult to understand the reason for this choice, walking along the streets of its historic center overlooked by splendid Renaissance buildings, such as the Cathedral, Piccolomini Palace and the Townhall. Of the imposing Piccolomini Palace, with its beautiful loggia, the interiors and the beautiful hanging garden can be visited.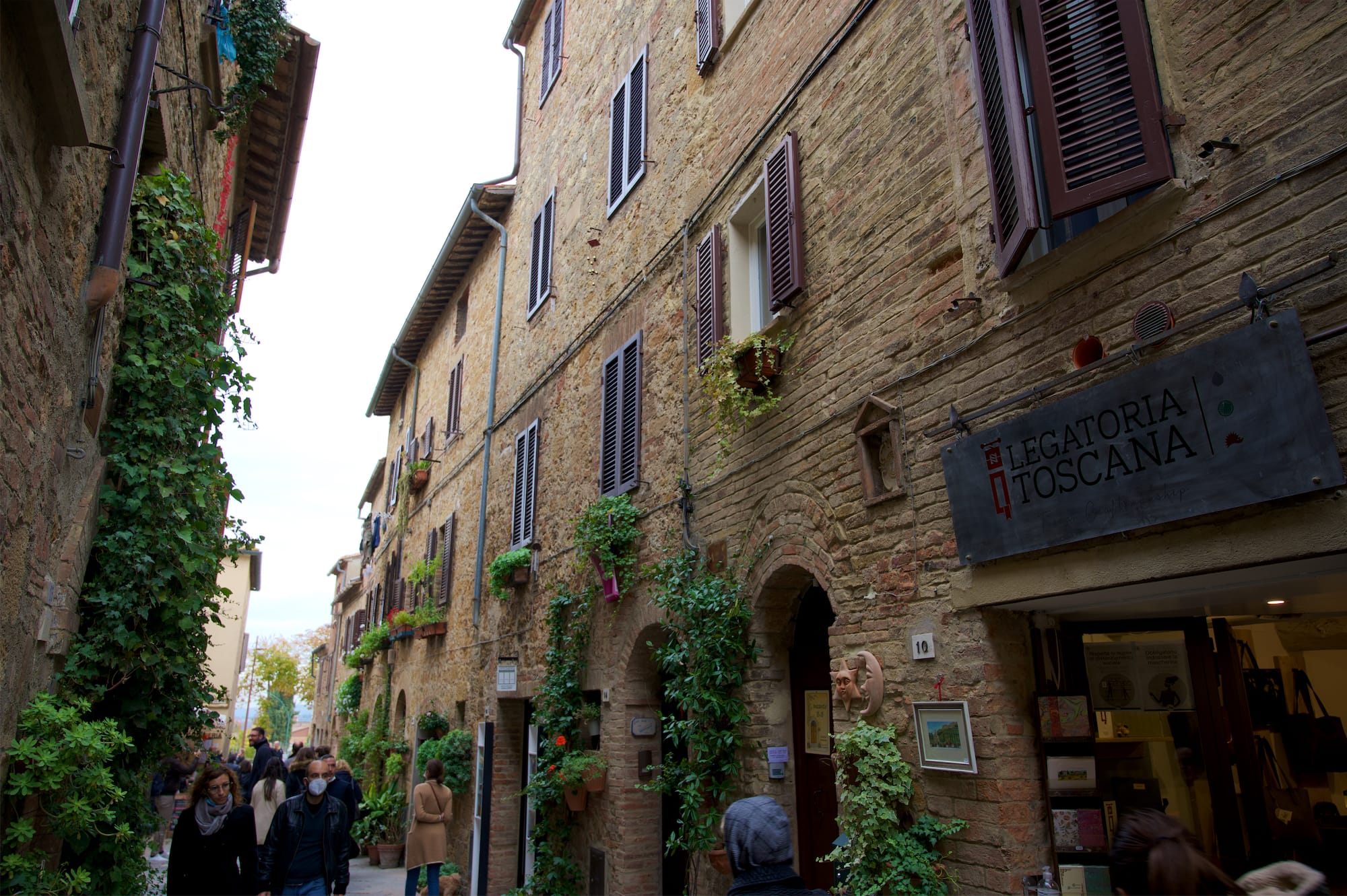 Pienza is also known for its tasty pecorino cheese, which you can taste and buy in one of the many shops located in its center.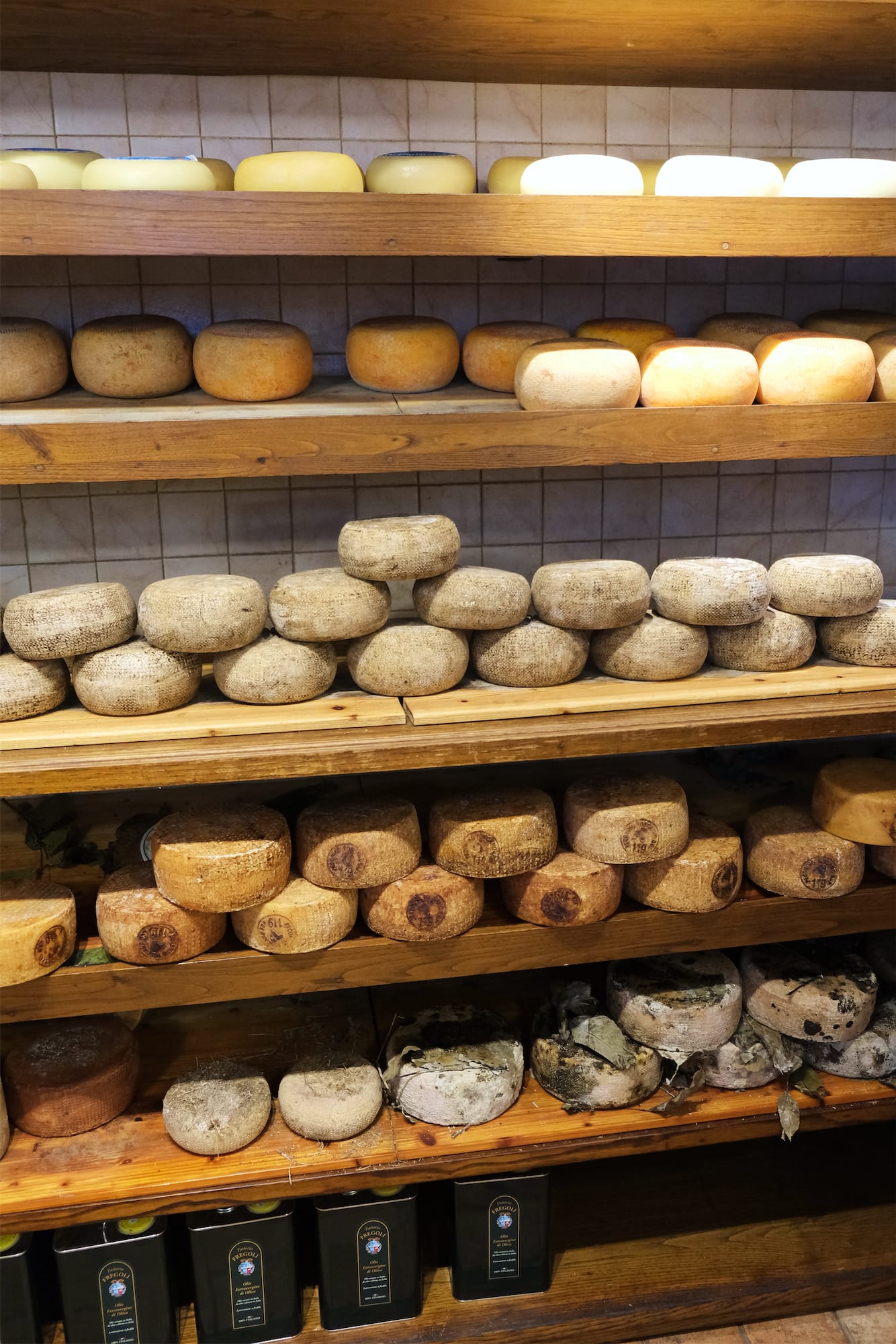 Crete Senesi and Val D'Orcia
These two areas of Tuscany are characterized by bucolic landscapes, soft hills that change color during the year, passing from lush green to warm autumn yellow. In addition to observing the iconic profiles of cypresses on the hills during the drive, we have chosen to make a stop in San Quirico d'Orcia. Here, after having covered a dirt stretch and a few steps on foot, you reach a particular circle of cypresses, in the center of which a work of modern art by Helidon has now been placed, a silver Ionic column. From here, the panoramic shots from above that bring out the perfect harmony of shapes.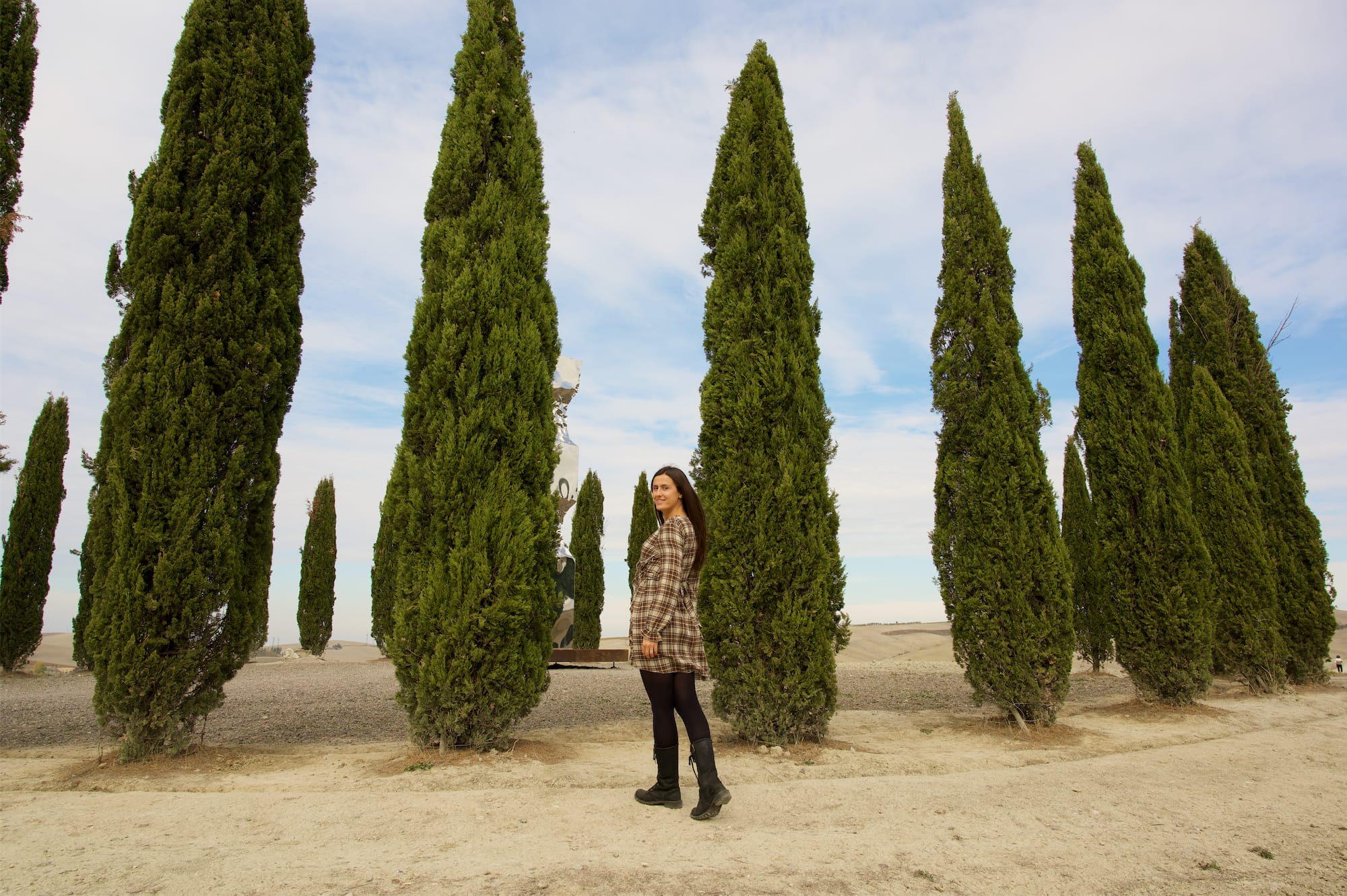 The most evocative part of the Crete Senesi is located near the village of Asciano. Among the various panoramic points, we have chosen to stop for some shots at the Agriturismo Baccoleno. We had already admired it in several shots, but it was still very special to see it live around sunset time.

Siena: hit and run
Siena undoubtedly deserves a thorough visit and probably more than one day to be able to visit all the beauty it has to offer. We went there years ago and we liked it very much, this year we thought we would go back to visit it just for a short walk and some shopping.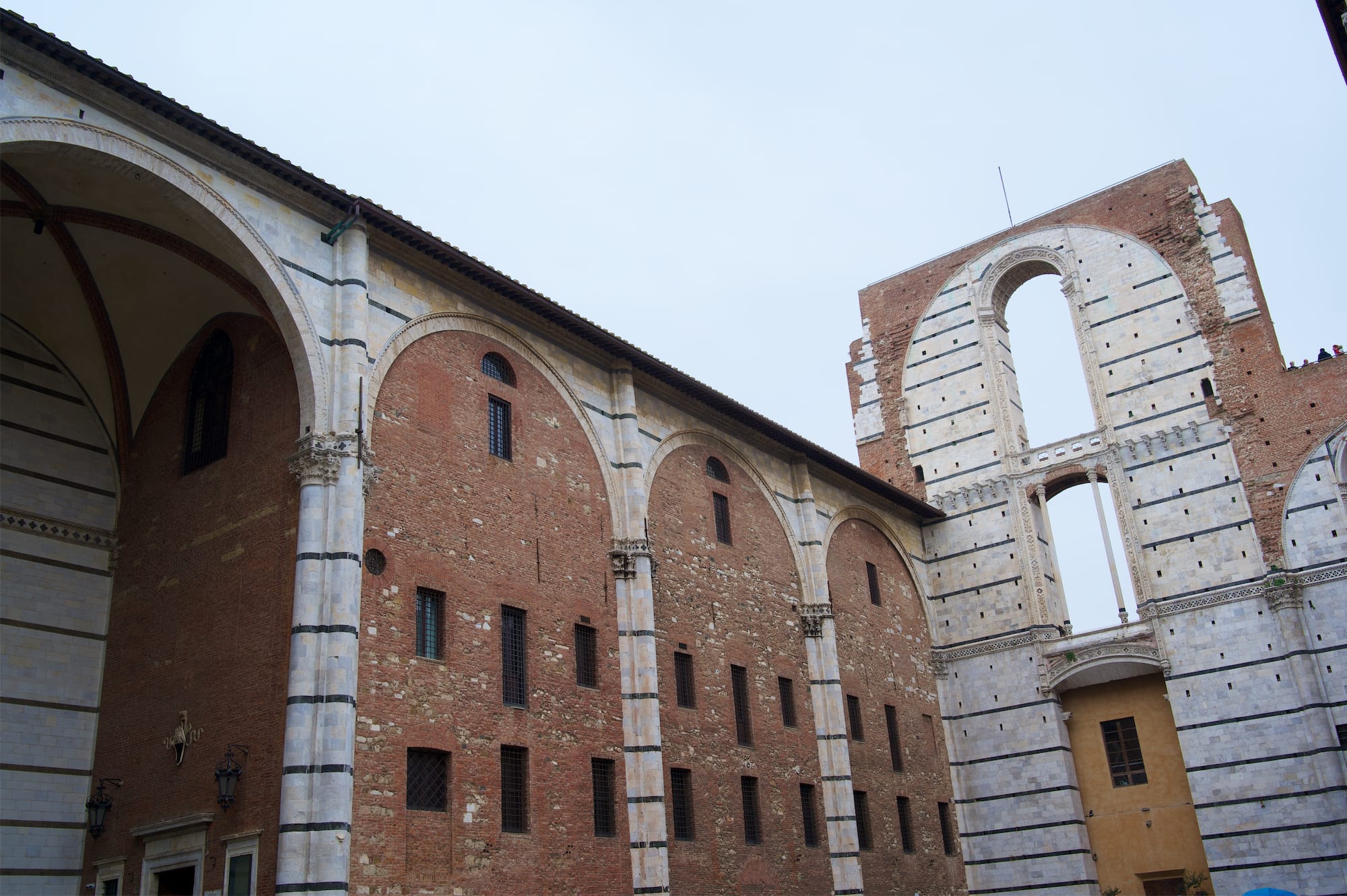 We walked through the streets of the center and then we reached the imposing and beautiful Piazza del Campo. During our stay we were able to see it again both day and night and every time we were enchanted by its charm.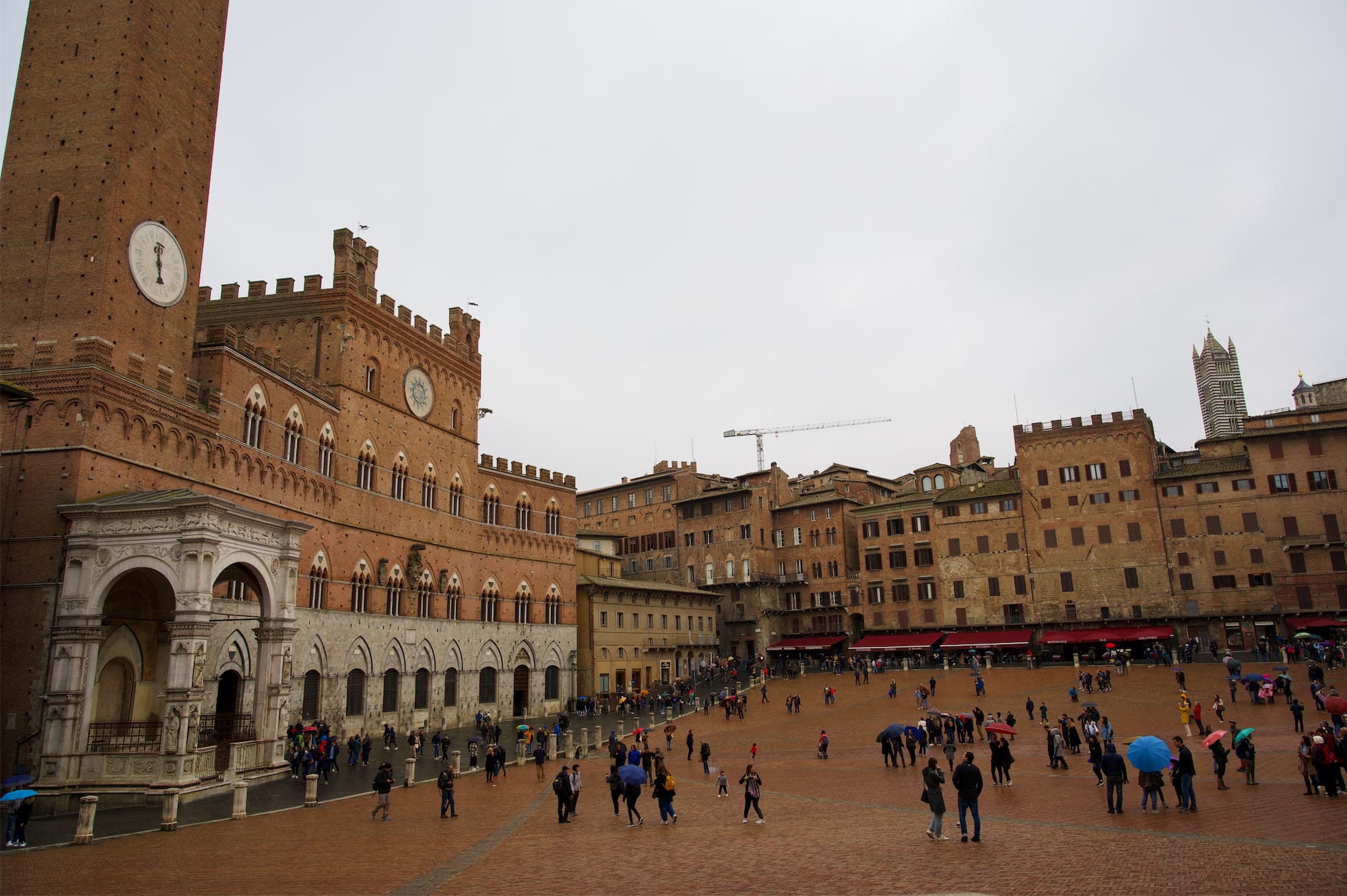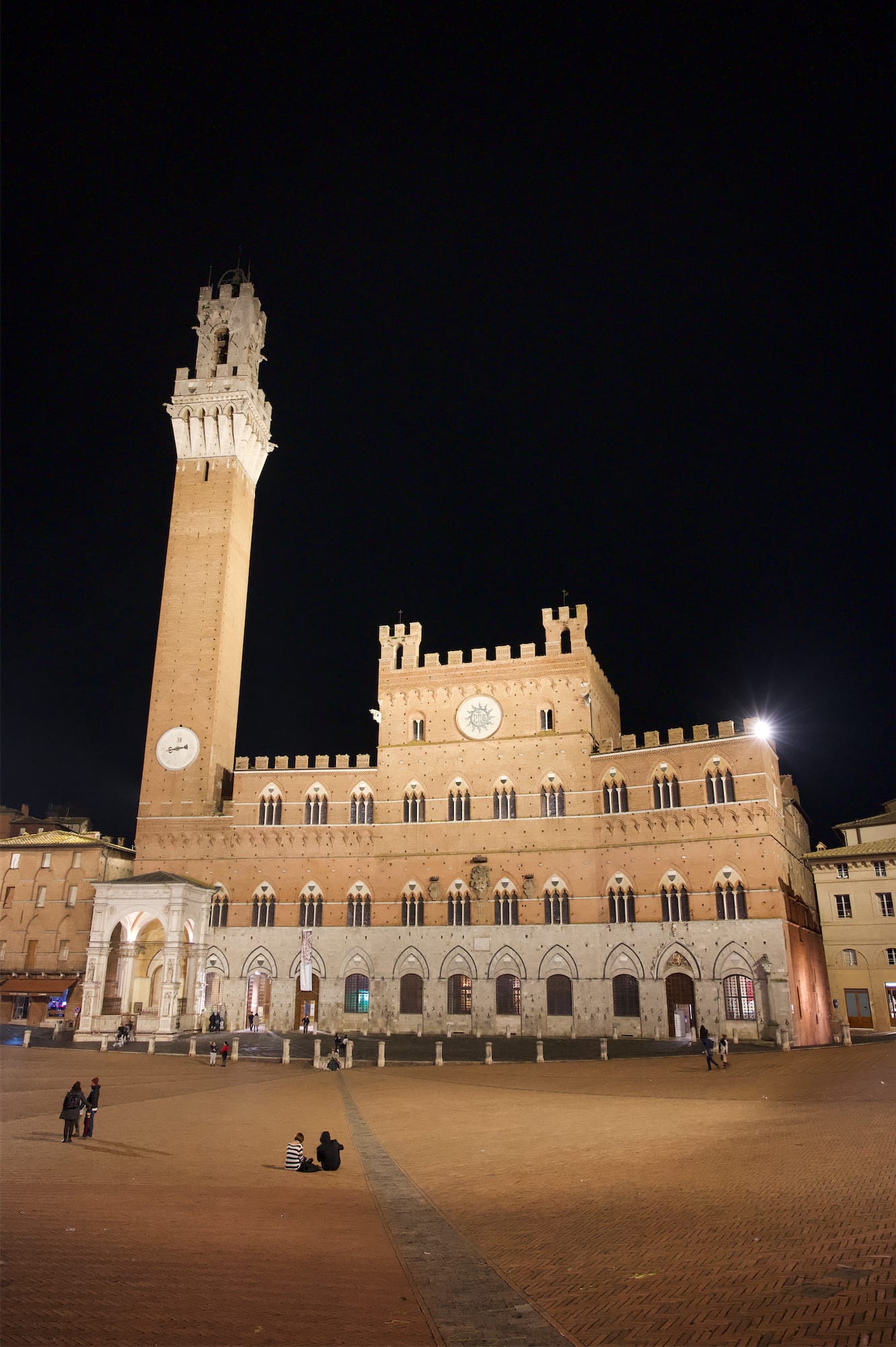 For panforte we chose the historic Antica Drogheria Manganelli in via di Città 71-73, one of those shops that seem to have come out of other times: their panforte and ricciarelli are really excellent and we made several purchases both for us and for some gifts . Moreover, if you want to experience it, they have all the ingredients to make your panforte directly at home. I was curious to try and so we bought everything we needed: the delicious candied fruit, almonds and spices. The result?!?! Absolutely delicious!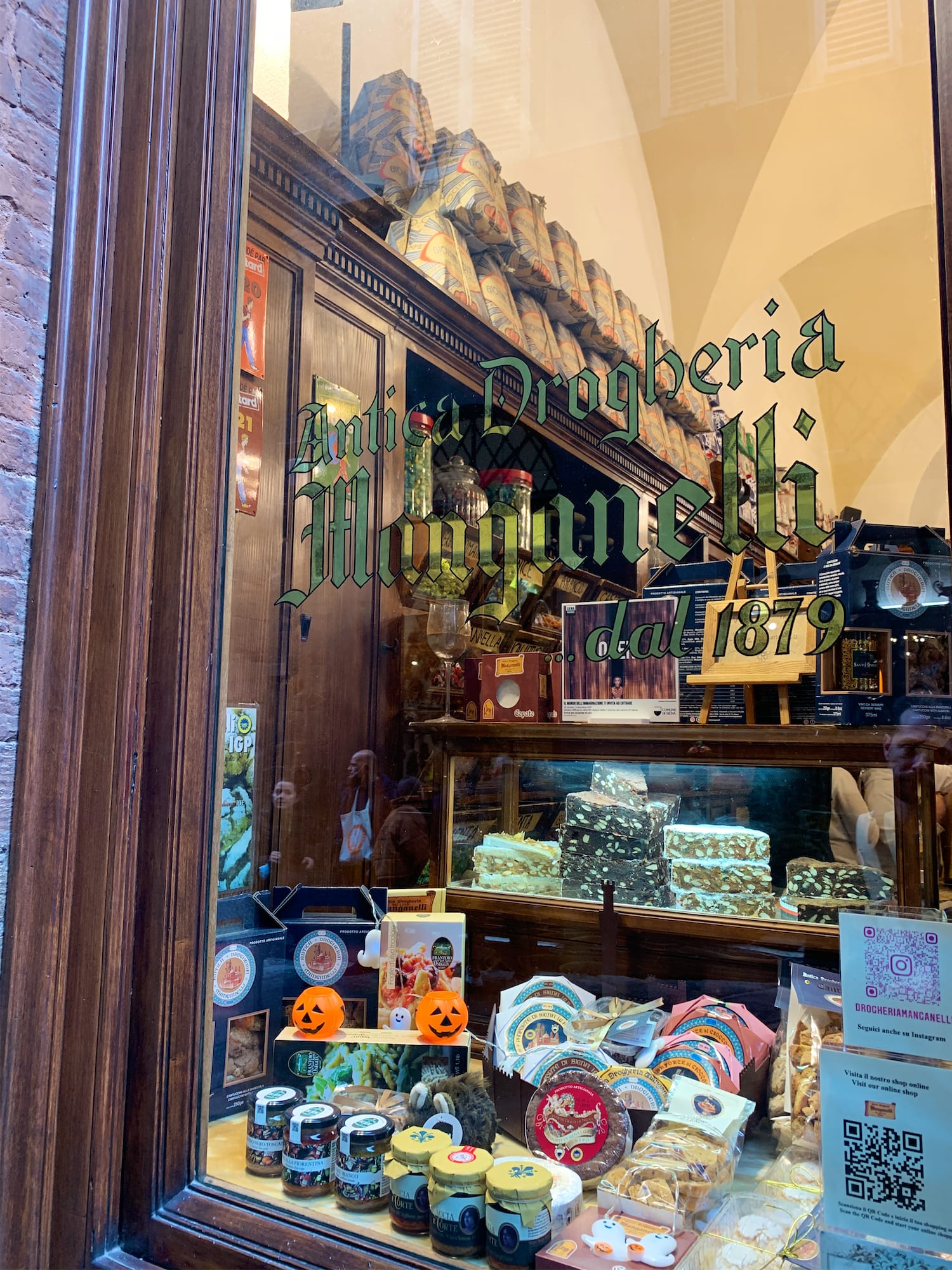 Before your trip
Where to eat?

In Monteriggioni we stopped for lunch at the restaurant Antico Travaglio. It has several tables on the main square and an internal veranda. The homemade pasta dishes are good, including pici with bread crumbs and bacon and pappardelle with wild boar ragout. Large portions but medium-high prices

In Pienza we recommend a cheese-themed bistro-gastronomy instead Vecchia Bottega. Here you can enjoy cheese platters and croutons and buy directly what you like best. Perfect for a quick snack

In Siena we recommend two different solutions:

for a lunch overlooking Piazza del Campo the tasty Osteria La Mossa. It offers excellent traditional dishes such as pappa al pomodoro and ribollita with an excellent quality-price ratio

for a more formal and romantic dinner, we ate at the Mugolone, an excellent restaurant near Piazza del Campo where you can taste refined dishes

Where to park? All the places we visited have convenient paid parking near the access to the center. For Siena we recommend the convenient Parking Santa Caterina. From the car park with the public escalator you can reach the center in a few minutes